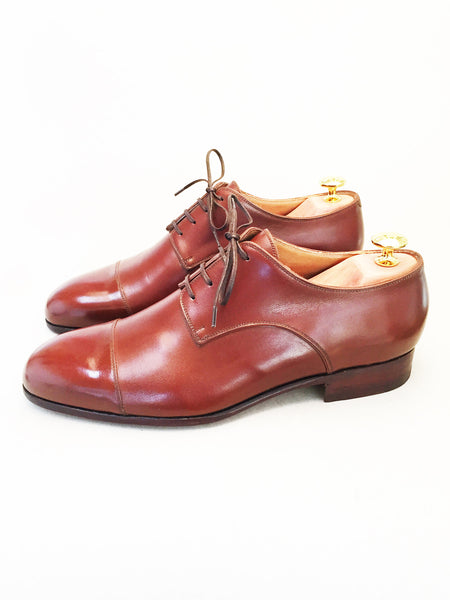 Made To Order (MTO) Blake-Stitched Construction
Made To Order (MTO)
Choose from any of our signature last shapes, and let your imagination run wild when it comes to designing your dream shoe!
Our MTO sizes range from size EU 40 to EU 45, including half-sizes.
(Other sizes are available upon request but will incur a surcharge of 100SGD)
Blake-stitched Construction
The Blake-stitched Construction was invented by Italian shoemakers when they wanted to create a shoe that had a more flexible sole, as well as a sleeker silhouette compared to a traditional, hand-welted shoe.
Perfect for formal occasions like weddings or Gala dinners, a pair of shoes made with the Blake-stitched construction will go perfectly with a tuxedo, and gives your feet the flexibility and comfort to dance the night away. 
1. Choice of Design
Any style of Oxford
Any style of Derby
Any style of Loafer
Brogueing (Additional 100SGD - Please add this option to your shopping cart before checking out)
2. Choice of Leather (Please view our Leathers under the "ABOUT US" Section)
French Box calf from Tanneries Du Puy 

Italian Museum calf from Ilcea 

Hand-dyed "Sicalf" (Crust) leather from Tanneries Du Puy (Additional 100SGD - Please add this option to your shopping cart before checking out) 
3. Waist Details
Standard width, square waist 

Narrow width, square waist 

Narrow width, bevelled waist 
4. Fake Welt Option
5. Choice of Last (Please view our Last shapes under the "ABOUT US" Section)
The Classic Englishman (Round, "Almond-shaped toe")

The Stylish Frenchman (Square, "Soft chisel toe")

The Passionate Italian (Square, "Aggressive chisel toe")